To have a slideshow as expected displays on your app, you should configure it first on the Backend panel by: Go to Admin panel > choose [App Builder] > Select a template that you want to update > Choose option [Home] on the dropdown refer here > Drag Slideshow widget into the builder.
1. Layout:
For this widget, users can insert a slideshow into their Homepage with 5 layouts: Basic, Center mode, Stack, Tinder, Rotate on "Layouts" tab.
2. General configuration:
On "General" tab, users can customize their slideshow with many options:
3. Content block
For this section, please note that:
– Each item is corresponding to a slideshow (refer here).
– Each element on the slideshow is corresponding to a layer item (refer here). 
– A slideshow item can have 1 or many layer items (refer here).
– For each layer item, there are 4 types: Text, Button, Image, Icon to select (refer here).
4. Style configuration
On "Style" tab, users can set up: padding, margin, animation, Background Section, Indicator color, Indicator Active color.

5. Some examples for slideshow
5.1. Example 1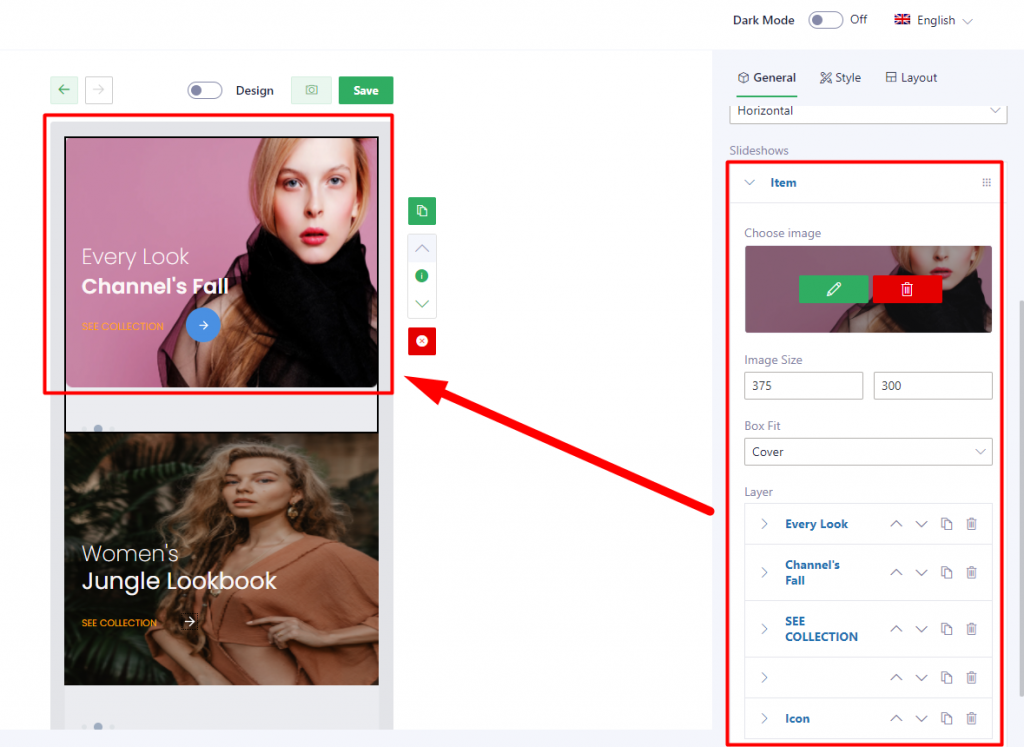 If you wanna create this slideshow, you can follow these setup below:
Step 1: Create a slideshow item refer here
Step 2: Create 5 layers:
5.2. Example 2
If you wanna create this slideshow, you can follow these setup below:
Step 1: Create a slideshow item refer here
Step 2: Create 5 layers:
5.3. Example 3
If you wanna create this slideshow, you can follow these setup below:
Step 1: Create a slideshow item refer here
Step 2: Create 3 layers:
5.4. Example 4
If you wanna create this slideshow, you can follow these setup below:
Step 1: Create a slideshow item refer here
Step 2: Create 3 layers:
5.5. Example 5
If you wanna create this slideshow, you can follow these setup below:
Step 1: Create a slideshow item refer here
Step 2: Create 3 layers: